Princess Leia, The Bride, Hermione Granger. We've all got a favourite, bad-ass heroine. They've got the brains, weapons and bags of confidence. But what about the anti-hero? What about the more unlikely heroines of film?
This one's for them.
Marge Gunderson – Fargo
Police chief, Marge Gunderson, saves the day by simply doing her job – really, really well.
Introduced as Norm's super pregnant, super placid wife (with an incredible ooh yah accent), we don't expect Marge to single handedly solve the strange series of events unfolding in her town. But she does just that.
Now we know that being seven months pregnant doesn't stop you from doing your job, but when you're the police chief of a town that has bodies piling up by the day, Marge could've easily just put her feet up, gone on maternity leave, and let her team handle it.
We love that Marge's pregnancy isn't the focal point of her character – yes, she's motivated by her unborn child – but it's her sheer determination, confidence and self belief that allows Marge to save the day.
Minny Jackson – The Help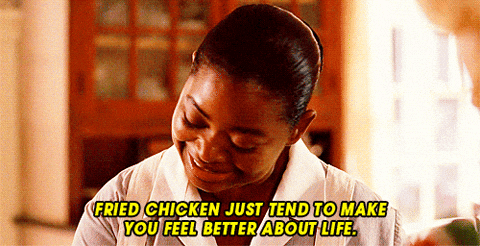 Responsible for making the heinous Hilly Holbrook eat poop pie, Minny is orchestral in encouraging the other maids to write their stories for The Help.
This alone shows her extreme bravery – she manages to convince her friends and fellow maids (by using her 'poop story' as protection), to have trust in her and stand united together.
Minny does all of this while experiencing domestic violence at the hands of her husband, but not once does she let this stifle her dreams. She fights back, supports her friends and stands up for what she believes in .
Ruth Wilder – GLOW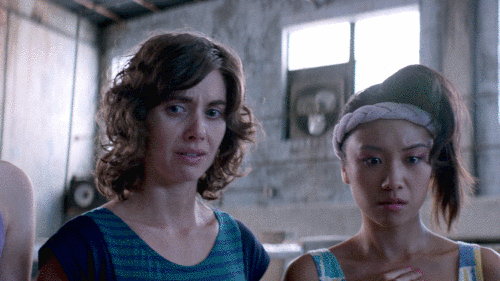 Admittedly, she's a pretty shitty person at first – she sleeps with her best friend Debbie's husband. Debbie reacts by signing up to GLOW (Glorious Women Of Wrestling) and competes for Ruth's spot. Eventually the two women realise they're worth more than crappy Mark and begin to repair their friendship.
After having her first child and not being on the soap opera, Paradise Cove anymore, Debbie's lost her way. It's this one selfish act from Ruth that acts as a catalyst for change in Debbie's life (albeit it a bit of a brutal one). But it's not the affair that defines either of them. Ruth – while regularly being told to go away – doesn't give up trying to help Debbie get her mojo back.
But the thing that makes Ruth the real heroine? She chooses to be the exact opposite.
In order to show Debbie and the rest of the girls how sorry she is, she owns her 'homewrecker' title and chooses to be Zoya the Destroyer, the ultimate villain. In contrast, she encourages Debbie to be all-America sweetheart, Liberty Belle, knowing that Debbie will be great from her experience on Paradise Cove. Now that's a real friend.
Erin Brockovich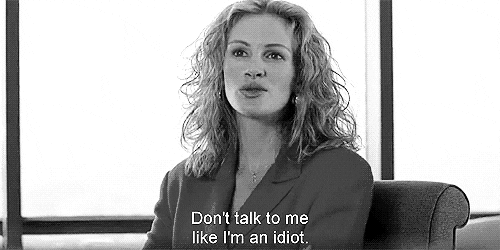 Kind of cheating here – the eponymous, real-life environmental activist of Erin Brockovich is the ultimate unlikely heroine.
Played by the fabulous Julia Roberts, Erin worked as a management trainee, quit, entered a beauty pageant and won Miss Pacific Coast. This alone is pretty impressive, but it's the Hinkley groundwater contamination that really makes Erin.
With a lack of formal education in law, three young children and being strapped for cash – who'd ever take her seriously? But, Erin takes a job as a legal clerk and manages to form a case against the Pacific Gas and Electric Company (and its involvement in contamination of the water in Hinkley).
Erin established the case by harnessing her real empathy and genuine concern for the families affected. Time and time again women are told they're too emotional, Ernin turned this stereotype on its head by using her passion and emotion to succeed.
Miss Honey – Matilda
On the surface, she's lovely, sweet and everyone's most coveted teacher. But throughout Matilda, we realise Miss Honey is carrying around a dark secret – the awful Miss Trunchbull is her aunt, and has kicked her out of her childhood home.
Each day Miss Honey deals with the insufferable Trunchbull, but manages to put her class first, especially Matilda, who she shares a unique bond with. She willingly puts herself in danger to save Matilda from a similar fate, using her intelligence and unconditional love to get the better of Trunchbull.
And, just when we think she can't possible get any better, she offers to adopt Matilda, saving her from a family who will never realise her worth.
She's utterly selfless and you'll be forgiven for wishing you'd had her as your teacher.
Shosanna – Inglourious Basterds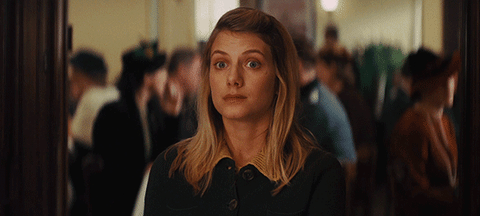 After being interrogated by sadistic colonel, Hans Landa, Perrier Lapadite gives in and tells the colonel he's hiding a Jewish family, right under his nose. The young girl, Shosanna, manages to escape and becomes the only surviving member of her family.
Years later she's running a cinema in Paris, with her secret lover Marcel (goals right there). As revenge, Shosanna holds the premiere of a Nazi propaganda film at her cinema and plots to kill everyone watching in the audience. That war paint/makeup scene is everything.
Sweet but deadly, Shosanna is calm, collected and brave when she's confronted for the second time in her life by the evil Hans – offering nothing but herself, unwilling to compromise to please the dangerous men around her. It's this refreshing attitude that makes us love her even more. Oh how she's matured. And she's not the one running away.
The jump cuts between Shosanna and the Basterds show that she doesn't need to skin the scalps off Nazis, she can lure them in, trap them, then set them on fire instead. Simple.
Follow Shannon @shazzzzakhan