Not known for her shy and discerning personality, Lily Allen burst onto the music scene back in 2006 with her cheeky smile, prom dresses with trainers and her undeniably infectious music. Her no fucks given attitude combined with her refreshingly honest lyrics, inevitably lead to her fast becoming the new voice of rebellious teenage girls everywhere.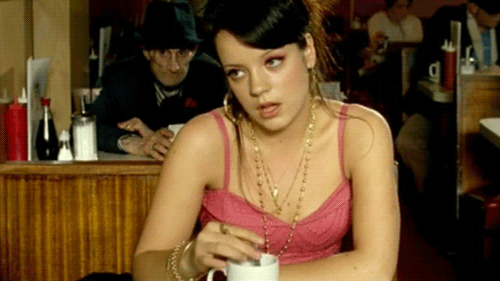 Fast forward a few years, two children and a divorce later, and the British songstress hasn't lost her fiery voice, but instead gained a vulnerability that we've never seen before, and it shines on aptly named fourth album "No Shame". This record feels like Allen is going on a very personal journey of discovery, and we're going on it with her, as she narrates in a way that only she could.
"Then Why am I so lonely/ 'cos nobody fucking phones me/ Come on then, then/ Since you know so much about me"
Opening track "Come on Then" is heartbreakingly raw, and you can't help but really feel for Lily. Her distinctive vocals glimmer over dancehall style beats and the result is soft and glimmery pop. Her unique marriage between pretty close to bone truths with her sugary tones and summery beats feels like Lily at her best.
Allen welcomes a few collaborations on to her record too. The first teaser single "Trigger Bang" features London based rapper Giggs. A somewhat dark and microscopic look on British Party Culture, the track, released back in January, is a weird mix of nostalgia and exhaustion, with a feeling of coming of age and growing out of what once was.
"When I was young I was blameless/ Playin' with rude boys and trainers / I had a foot in the rave 'cause I was attracted to danger".
Although the track is reminiscent, it feels reflective above all, and a calm sense of acceptance of time passing from the songstress.
"Apples" is a stand out track on the album for me, a quiet highlight nestled in the middle, with stripped back chords and the singer's simplistic vocals ringing.
"I like a drink but that does not make me a wreck/ So cliché for me to say, I never meant to break your heart/ I'm to blame for all your pain/ I never could have played that part".
What is seemingly like a close look at the breakdown of Lily's marriage, the song is so beautifully honest, like the better songs written, you can see your own heartbreaks twinkling right through it. It's relatable.
Similarly, "Three", written through the point of view of a confused three-year-old, addresses her marriage break-up and her guilt at feeling like she wasn't a good enough mother when her children were young. The piano laden-ballad is a sobering take, followed by the gut-wrenching "Everything to Feel Something" (reader: I cried when I first heard it) "I feel it in my gut/ I'm gonna let you fuck me/I know I'm being used / I'm just another thing to do"
"I don't know why I do it to myself/ Giving all my worth to someone else"
Her ethereal vocals, tinged with her own sense of self-loathing is so bracing, you can't help but be caught up in the emotion. In a world full of dismissed anxieties, Lilly Allen's voice rings loudly above the noise with her candour and empathy.
This isn't a break-up album, though. Through-out the revelations and reflective narratives, Lily still manages to create catchy, summer-worthy dreamy hits. Last track "Cake" is an R&B tinged, dreamy anthem, with an infectious melody and chorus "Eventually you'll get a piece of that patriarchy pie,"
"What You Waiting for?" and "Your choice" feat Burna Boy is summer pop at its finest too.  Laden with dance beats and bashment influences, they're worthy of summer playlists for every occasion.  "Pushing Up Daisies" is another lighter note on the album. With themes of wariness around new relationships and saying too much before you gage the other person's feelings, Lily's unique humour and relatability are hard to miss.