Welcome to the 2020s: the years in which we truly find ourselves. 
Okay, that sounds pretty wanky, but most of us seem to be using this fresh decade as an opportunity for a total reboot… and I really think that's okay. 'New year, new me' gets a lot of stick for being cliched but really, there couldn't be a better time to make the changes we've been longing to. 
It goes without saying that do not need to change anything unless you want to. I've written before on how I don't believe wholly in the notions of New Year's resolutions. I think my biggest problem is that they often involve negative reinforcements rather than positive actions. We vow to take so much away, stop doing this and quit that. But might it actually be better to add things, even if it feels counter-intuitive? 
I'm not ashamed to admit that I'll be entering the new decade with a confidence I only found in the latter half of 2019, and it's made me really think about what I want to embody going forward. Strength, assurance, joy, productivity. I don't see them as rules to follow, but gateways to being my best self. Allow me to present my Big Moods, and mantras for the new decade.
Thank u, next
Yes, I'm a white girl. Immortalised by Ariana Grande in 2019, this has become a mantra for everything from recovering from trauma to chucking a boyfriend. And whilst it seems silly, I do believe there is a reason why so many of us were captured by it. It's like our sassier, more adult Hakuna Matata. It means no worries for the rest of our days, and then some. In 2020 and beyond, I'm going to recognise what has hurt or disappointed me, take time to recollect, and then move on. You don't have to be, as she sings, fucking grateful for it,  but I really do think there's something powerfully freeing about the act of acknowledgement. Like if we face up to things, we can better leave them behind and find our peace. 
Celebrate, while you still can
Celebrate – ourselves, each other. Big things, small things. Of not just our talents but our weaknesses. Anderson.Paak has been one of my favourite music discoveries of the decade, and whilst his lyric might sound a bit morbid to you, I think it's a reminder (similar to the following #mood) that our time is so valuable and it's our responsibility to use it wisely. So let's big ourselves up more. Centre appreciation and recognition and joy whenever we can.
Reclaiming my time
Made famous (aka turned into a meme) by Democratic Representative Maxine Walters in a US congressional hearing in 2017 – to me, this still remains the ultimate acknowledgement of our value. In the 2020's I'm seeking to reclaim my time not only from those who waste it, but from myself. Not in the spirit of #hustle though.  I'll be practising giving less space to the things that drain me. Insecurities, judgements from imaginary parties providing a blow by blow commentary on my life and all my decisions. I will seek to silence myself in so many ways, but raise my voice in others. I'll be reclaiming my time and, in doing so, so much of my own life.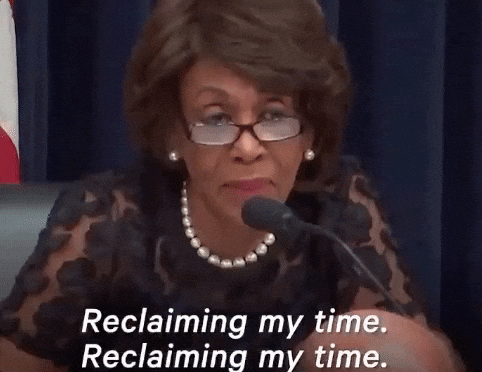 Learn, always
Probably the most evergreen sentiment. 2019 has been a hard year. I graduated – very naively –  feeling like I knew everything. I thought that, because I'd worked hard, proved myself, given my all, that I deserved for that to be compensated…. with a job. But the reality is I am ending this year with no full-time income. It's an understatement to say that this isn't where I thought I would, or have wanted to be. 'This is not what my life is supposed to look like' is something I have said on more occasions than I care to admit. I thought a university degree was enough proof that I have "learned" my trade (It is not).  This has been the biggest curve of not just the year, but the decade. It's involved me swallowing my pride a lot, admitting when I don't know enough and that's… that's unsettling for a perfectionist. For a chronic overachiever. But it's also important. I've realised a lot, but mostly that we are always learning, and must embrace it. 
Happy new decade, I wonder what our #mood will be in 2030 (and whether that'll still be a thing)…
Follow Amy HERE.