Imposer syndrome is the anxious/on the edge of a cliff/could be found out at any moment feeling of not belonging. It plagues our work-lives most prominently, but can trickle into personal relationships. With everyone so scared to admit that they feel it, through fear of exposing their fraudulence, advice on how to combat the emotion is hard to come by.
Women, understandably, feel it the most- when the patriarchal society we live in constantly rewards men despite their merit over female counterparts, whom are equally (if not more) talented. Most smart women know that they'll have to work ten times as hard to get where a man of similar experience gets. However, it's hard to keep this thought at the forefront of our minds; the uphill struggle and constant knock backs merge into personal insecurities. Hewlett Packard's much cited statistic "men apply for a job when they meet only 60% of the qualifications, but women apply only if they meet 100% of them" shows how internalised imposter syndrome is for women.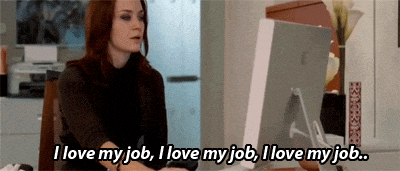 In our personal lives, imposter syndrome rears its ugly head in a multitude of ways. Ever thought that your partner will one day turn around and realise that you're a fraud of a human being and have more in common with a swamp creature? That once the rose-tinted glasses come off, they'll think you're a heinous beast? Again, this fear is more prevalent in women. We're conditioned to project ourselves as angelic/pure/nymph like creatures – that don't shit, fart or barf. 'Cus shattering male illusions of femininity is more important that having necessary human bodily functions, right?!
Here's what you can do to try and combat imposter syndrome
Document Your Good Days
Document those days when you're feeling like a hybrid of Beyoncé and superwoman, that come around every-so-often (usually after three cappuccinos). Make a note of all the killer things you've achieved and any amazing feedback received. On your Kelly/Michelle days you can flick through these as a reminder of your awesomeness.
For the personal side – write down all the things that make you an incredible SO. Are you a champion spot popper? As loyal as they get? Really good in bed? Write a list of all your pros, and read them on crap days. Coercing your other half into giving you a pep talk also works a treat.
Relativism is Key
Okay, so you accidentally signed an important email off with 'xxx' or you didn't save that time-consuming excel doc you spent all morning working on. Breathe. Your CEO didn't overhear you bitching about them, you didn't cock up a massive campaign. It's not going to get you fired- you probably won't even remember what happened by next Wednesday.
Pat Your Own Back
Go on, self-indulge a little. Do it vocally. If your male counterparts won't say well done, say it yourself. In a meeting, it's totally okay to vocalise accomplishment like this 'I just wanted to bring your attention to X, that had X results, due to X amount of work'.
Go forth and slay that pesky imposter syndrome…